Title: A Man Called Ove
Author: Fredrik Backman
Published: 2014
ISBN: 9781473616349
Pages: 294
Language: English (Translated from Swedish by Henning Koch)
Synopsis
At first sight, Ove is almost certainly the grumpiest man you will ever meet. He thinks himself surrounded by idiots – joggers, neighbors who can't reverse a trailer properly and shop assistants who talk in code.
But isn't it rare, these days, to find such old-fashioned clarity of belief and deed? Such unswerving conviction about what the world should be, and a lifelong dedication to making it just so?
In the end, you will see, there is something about Ove that is quite irresistible…
My Review
This is my first Backman's book. After Stieg Larsson, Backman is the second Swedish author I've read. And I can't wait to read Backman's other books; My Grandmother Asked Me to Tell You She's Sorry, Britt-Marie Was Here, Bear Town, and Us Against You.
A Man Called Ove is such a heart-warming book. The writer has beautifully delivered the past and present life of Ove showing the man Ove is and why he is the way he is. Ove is a man who lives by the rule and has a distinct line between the wrong and the right.
One of the most important things this book teaches is not to judge a person before knowing his/her story. When you first meet Ove, you will definitely find him the grumpiest man you will ever meet. But as you read on, you will find your opinion about him change, you will start adoring him.
The book teaches us to be helpful no matter what. Helping others can change your way of living life.
The love between Ove and his wife, Sonja will melt your heart. Ove is all about making her feel his love for her in every possible way.
The book is kind of slow-paced but definitely not boring. It will break your heart and also warms your heart. I was all tears on so many occasions and also laughing at some moments.
Ove is grouchy but he certainly is a good man with a kind heart. At the end of the book, I wished if Ove were my grandfather.
After The Book Thief, this is another book that I can't wait to watch the movie adaptation.
How to pronounce 'Ove'?
Honestly, when I first came to know about this book, I read 'Ove' as 'O-vi'. But as soon as I discovered the author is Swedish and figured out the setting and the characters are too Swedish, I knew how to pronounce 'Ove'. It is pronounced as 'Oo-Vuh'. (Thanks to all my Scandinavian friends.)
Major Characters:
Ove – A grumpy old man with a very big heart
Sonja – Ove's wife
Parvaneh – The pregnant foreign woman, Ove's new neighbor
Patrick – Parvaneh's husband who cannot reverse with a trailer
Rune – Ove's neighbor, best friend, and archenemy
Jimmy – Ove's overweight neighbor
Cat – Stray but makes his home in Ove's
Below is my review of 'A Man Called Ove' on Goodreads: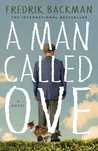 A Man Called Ove by Fredrik Backman
My rating: 4 of 5 stars
An excellent read. One will laugh and cry throughout the book. Heart-touching and warm.
Favorite Quotes from A Man Called Ove
"People said Ove saw the world in black and white. But she was color. All the color he had."

"Men are what they are because of what they do. Not what they say."

"He went through life with his hands firmly shoved into his pockets. She danced."

"You only need one ray of light to chase all the shadows away"

"We fear it, yet most of us fear more than anything that it may take someone other than ourselves. For the greatest fear of death is always that it will pass us by. And leave us there alone."

"But sorrow is unreliable in that way. When people don't share it there's a good chance that it will drive them apart instead."

"Because you are not a complete twit."

"All roads lead to something you were predestined to do."

"They never had much, but they always had enough."

"But if anyone had asked, he would have told them that he never lived before he met her. And not after either."
Pin it for later!↓
This post contains affiliate links.